Flutter is a highly popular technology among the developer community due to its native and cross-platform development capabilities.
In this article, we will take a look at how it is setting the mark in the world of app development with its versatility, and usefulness. Also, we will see how DhiWise Flutter app builder makes the app development highly efficient, and effortless.
Flutter is Google's UI toolkit for building native applications from a single code base. Unlike other technologies, with Flutter, you can build mobile, web, embedded, and desktop apps using a single codebase and with little optimization. 
In mobile applications UI and UX matter a lot. Flutter has its own material design widgets that offer the best look and feel. Further, the Flutter is built on Skia, with that, the flutter code is directly compiled to native code. Therefore the apps built with Flutter are glitch-free and provide a nicer UX.
Flutter not only enables developers to deliver apps faster but also lowers app development costs. It is the best choice for startups, entrepreneurs, freelance developers, and large-scale enterprises.
Let's learn more about the technology and its capabilities.
A Brief History of Flutter Technology
Here is a brief history of Flutter,
At the 2015 Dart developers summit, the first version of Flutter, dubbed "Sky," was introduced.
During Google Developer Days in Shanghai in December 2018. Flutter Release Preview 2 was announced by Google shortly before the official release of Flutter 1.0.
On December 11, 2019, Flutter 1.12 was released during the Flutter Interactive event. 
On May 6, 2020, Flutter 1.17 was released alongside the Dart software development kit (SDK) in version 2.8 with support for Metal API, material widgets, network tracking, and iOS (to improve performance by 50%)
On March 3, 2021, Google released Flutter 2.0 during the Online Flutter Engage event with official support for web, mobile, desktop, and embedded applications. 
Flutter 3.3 is the recently released version with new updates and advanced features. 
Though Flutter is new in the market, it itself speaks about its versatility and usefulness. In the world of software development, technology keeps changing, but today it is among the most popular development frameworks. 
If you are still unsure about why to use Flutter in app development please go through the below statistics and important mentions. 
‍
Flutter Statistics
1. "Flutter has over 2 million users and is still growing."
Google has announced that Flutter is now used by "nearly half a million developers" each month. Flutter has been used by nearly 2 million developers since version 1.0 was released in December 2018. Flutter adoption is never coming down, Flutter shows 10% month-over-month growth, and out of 50,000 flutter apps on Google pay, nearly 10,000 were uploaded in the past month.
Flutter has become the number one developer choice and now it has a strong foothold in the market.  Flutter has a total number of 145k stars, 23.4k forks, and 1086 contributors on Github. It has overruled the other cross-platform SDK in less time.  
‍
3. "About 39% of app developers choose Flutter for app Development"
In a survey of cross-platform mobile frameworks used by software developers worldwide in 2019 and 2020, 39% of developers choose Flutter for app development.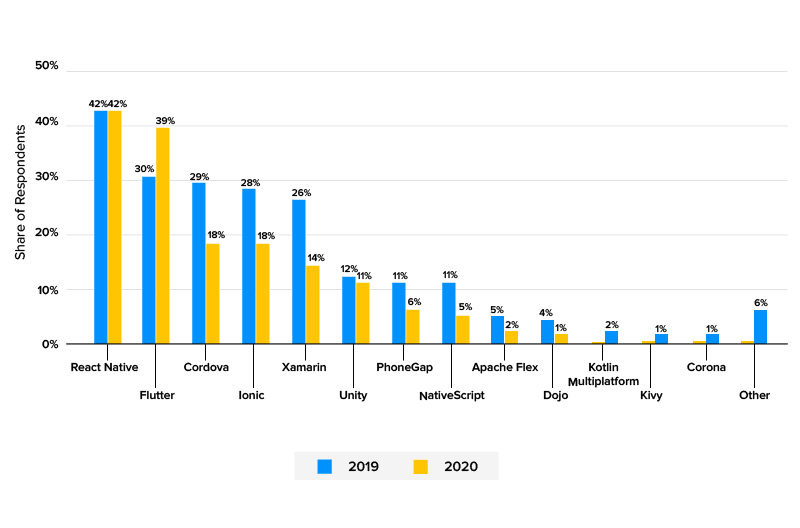 39% of  app developers use Flutter
‍
According to Stack Overflow Developers Survey 2022, Flutter is amongst the top 10 and most powerful frameworks as compared to other languages.  It is the most useful and simple framework for app developers to work on.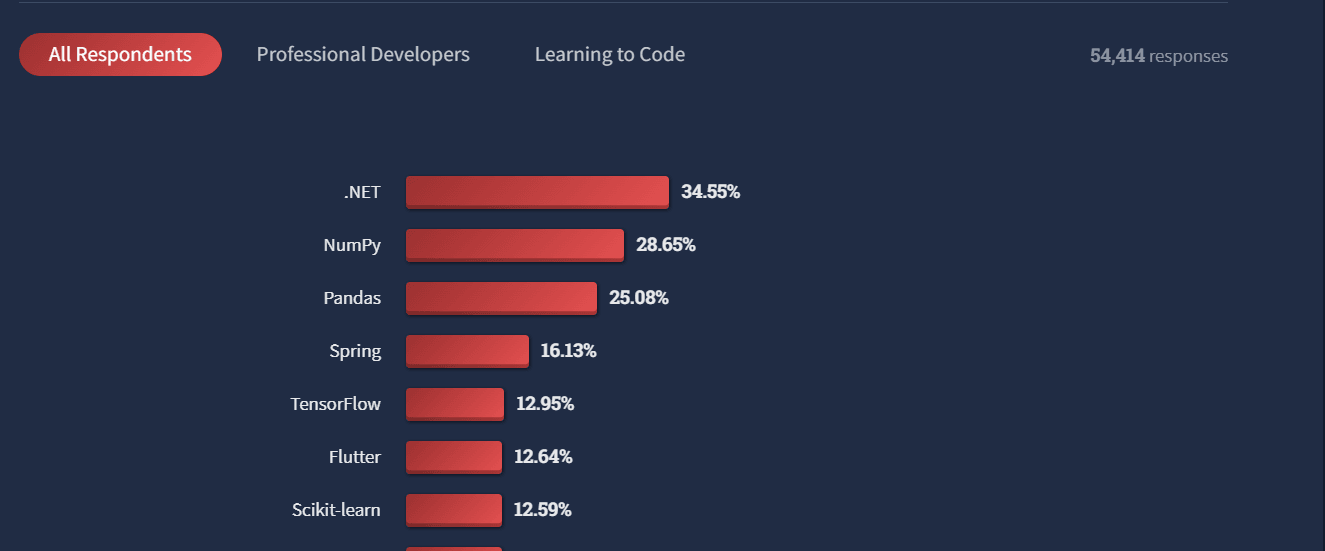 Stack Overflow survey 2022
But what makes developers fall in love with Flutter, especially for cross-platform app development?
The top reason behind Flutter is trending for cross-platform app development
App  UI and UX can make or break the app development process. Flutter allows developers to create slick user interfaces.
Flutter comes up with a vast library of advanced widgets, with systematic categorization. Developers can use it for various domains such as e-commerce, healthcare, social media, etc. Also, you can create custom widgets for applications to have a custom look and feel. 
‍
2. Great for building cross-platform applications
Flutter offers a single codebase for Android, iOS, desktop, and web, saving developers time on code maintenance and speeding up app development.
Having a single codebase for app development means you can create an app even if you only have one development team.  As it is easy to manage code for various platforms.
‍
3. Has a shorter learning curve 
The Flutter learning curve is shorter than most other frameworks, it is easy to understand and learn. Flutter uses a programming language called Dart. Developers with prior experience in Java, Kotlin, and C# can easily adapt to the Dart language. 
‍
4. The app built with Flutter-Dart is testable
App testing can take a long time and be frustrating if bugs are difficult to find and remove.  Flutter-Dart language is type-safe, it uses a combination of static type checking and runtime checks to ensure code does not show type errors. 
Therefore, with Flutter, you no need to worry about testing, you can rely on the automatic test to get desired results. Since it minimizes the testing time you can deliver your app faster. 
‍
How does DhiWise make Flutter app development highly efficient and effortless?
"DhiWise is a revolutionary platform to build web and mobile applications faster in less time at a lower cost."
Google-made Flutter is preferred by the developer's communities for native and cross-platform app development. DhiWise Flutter builder enhances Flutter app development capabilities 5x times by providing state-of-the-art features.
Top features of DhiWise Flutter builder:
Design to code conversion in minutes
UI customization using a visual interface 
Smart editor for code customization
API integration and customization
Firebase and Supabase integration
GitHub and GitLab integration
Duel code generation for both Android and iOS   
Ready to use app templates and screen libraries
Support for clean code architecture
Complete code ownership
And so on. 
With all these features, DhiWise Flutter builder reduces the app development times from weeks to days without affecting the code quality. 
DhiWise makes sure that developers find it effortless and fun to build an app. So it provides an intuitive Flutter builder with visual programming capabilities. 
Also, see how DhiWise helps transform 30 businesses with its capabilities. 
The Bottom Line: 
From the preceding discussion, we can conclude that Flutter is far superior to the other cross-platform app development technologies available today. Further, it is just a young technology and there is a huge scope for improvement that can make it much better. 
And if you want to build an app with Flutter, try using DhiWise Flutter builder to experience the flexibility, and efficiency in app development.
Other than Flutter technology, Dhiwise supports React.js, Node.js, Kotlin, MongoDB, Swift, and Laravel. So developers can build their full stack app using a single platform.  
Sign up today to start building your next app with DhiWise!