The article gives you an overview of Android Jetpack Components (It includes Architecture, UI, Behavior, and Foundation) and brief information about the tools, libraries, APIs, and widgets under each component.
Introduction
Android Jetpack is a set of software components, libraries, tools, and guidance that helps developers to build robust android applications.
Android jetpack is inspired by the support library, which is a set of components to take advantage of new Android features while maintaining backward compatibility across android releases with androidx.* package library. It is Launched by Google in 2018.
The most fascinating aspect of the Jetpack is that it gets updated more frequently than the Android platform so that we can always get the advantage of the latest platform.
Jetpack comprises pre-existing Android support libraries, architectural components, and an Android KTX library (A set of Kotlin extensions that leverages several Kotlin language features).
According to Google, Jetpack is currently used by 99% of every app in the Play Store.
To deal with the data changes and to reduce complications in the app life cycle, Jetpack introduced four Android Jetpack Components. Android Jetpack components are collections of Libraries that help developers design robust, testable, and maintainable apps.
Let's take a closer look at Android Jetpack.
Android Jetpack
Android Jetpack helps solve major problems such as managing activity life cycles, configuration changes, and preventing memory leaks. Android Jetpack components bring together the existing support library and architecture components and define them into four categories. As shown in the figure below.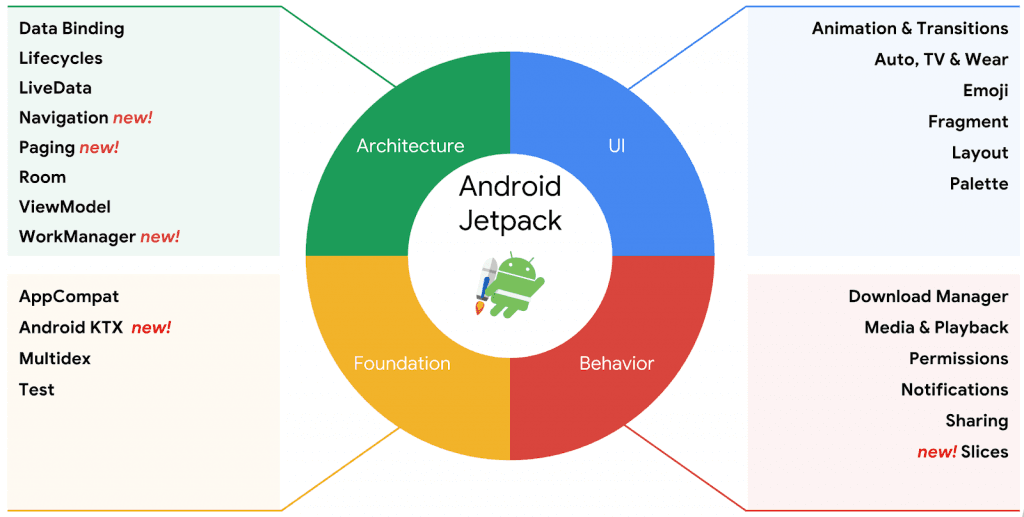 Android Jetpack Components
These components help to simplify complex things and eliminates the majority of the boilerplate code from the application. Furthur is built around modern design principles such as separation of concerns, and deriving UI from a model.
The components have been classified into four groups:
Foundation Components
Architecture Components
Behavior Components
UI Components
Let's look into each of them.
1. Foundation Components
The foundation component facilitates backward compatibility, testing support, and Kotin language support.
The foundation component consists of,
App compact: Allows access to new APIs on older API versions of the platform with material design user interface implementation support.
Android KTX: It is a set of Kotlin extensions included with Android Jetpack and other Android libraries.
Multidex: Perform the system split of the .dex file of the application into multiple .dex files and provides support for multiple .dex files.
Test: It includes the Espresso UI testing framework for runtime UI and AndroidJUnitRunner for unit testing in Android.
2. Architecture Components
Architectural components facilitate highly testable robust app architecture while individually addressing developers' pain points.
Architecture components are as follows:
Data Binding: A declarative format is used to connect UI elements in your layout to the data source in your application.
Lifecycles: Lifecycle-aware components act in response to the change in lifecycle status of another component such as activity and fragment.
LiveData: It is a lifecycle-aware data holder class that updates app component observers that are in an active lifecycle state.
Navigation: Handle all aspects of in-app navigation.
Paging: Gradually loads and displays small chunks of data on demand from your data source.
Room: Provides Fluent database access while harnessing the power of SQLite.
ViewModel: It stores and Manages UI-related data in a lifecycle conscious way and allows data to survive configuration changes such as screen rotation.
WorkManager: API that makes it easy to schedule reliable, asynchronous tasks that are expected to run even if the app exits or the device restarts.
3. Behavior Components
Behavioral components enable your app to integrate with modern Android services such as notification, permissions, media sharing, and assistance.
Following are the behavioral components:
Download Manager: Schedule and manage long-running HTTP downloads.
Media & playback: APIs for media playback and routing that are backward compatible.
Notifications: Provides a backward-compatible notification API with Wear and Auto support.
Permissions: Compatibility APIs for checking and requesting app permissions.
Preferences: Allows to build interactive settings screens for users to configure settings.
Sharing: Provides a share action suitable for an app's action bar for sharing simple data (image, text, or file).
Slices: Create flexible UI elements that can display app data outside the app.
4. UI Components
The UI component provides widgets and helps you to make your application attractive and adorable.
Following are the UI components:
Animation and transitions: This allows you to animate UI transition, widgets on user's actions.
Auto: Helps you develop an Android Auto app with Android Automotive OS.
Emoji: Helps to keep Android devices up to date with the latest emoji.
Fragment: A reusable unit of composable UI.
Layout: Helps to build your app layout structure using Layout widgets with different algorithms.
Palette: Select and apply useful information from color palettes to make your app visually appealing.
TV: API helps you to build Android TV apps.
Wear: Components to develop Wear apps that work on smarter screens such as smartwatches.
Though components are built to work together for eg. lifecycle awareness and live data it's not compulsory to use all of them, you can integrate any part of Android Jetpack that solves your problem.
Finding the ways to build Android Apps Faster? To accelerate your app development, try DhiWise Kotlin Builder.
DhiWise is a 100% developer-centric web and mobile app development platform. With DhiWise Kotlin Builder you can build clean and scalable Kotlin applications faster. It facilitates converting your Figma design to Kotlin code, automatic source code generation, API integration, and much more.
Further, it supports all the latest libraries essential for Kotlin app development, to reduce boilerplate code and increase productivity.
Sign up today!!