Summary: Developing Software applications such as mobile and web apps is no longer an option but a must-have in today's digital world.
With the advancement in technologies, it is now possible for any IT Startup to build a mobile and website app with a small development team and minimum resources 2x faster.
To know more, continue reading this blog.
Digitization and growing popularity of on-demand apps
We are living in an era of continuously emerging technologies.  With the new trends in technological innovations in software development. The demand for online services is drastically increasing and is not limited to a particular sector or large organization.
Whether it's a small shop or restaurant or a big e-commerce business or an online food delivery app,  a healthcare service, online education, and training service, the demand is everywhere and due to the pandemic, it has been reaching its peak.  
On the other hand, companies are trying to reach more customers through websites, mobile applications, and online social media platforms. Even most of the mid-sized and small businesses have already adapted to digitization with their mobile apps and online websites to operate and expand their business.  
Developing smooth mobile apps and websites is not a one-time task, it is a complete development process that goes through different stages such as plan, code, test deployment, and maintenance. It is the responsibility of the development team to deliver the best software application on time.  
The key role of IT Startups in mobile and web application development services
IT startups play a key role in delivering software solutions for small, medium, and even large organizations. However, with a limited workforce and shorter project hours, developers are continuously working under pressure to deliver quality products earlier than the project deadline.
There are many online tools to help developers, increase their efficiency, but learning new tools and adapting to them hampers the developer's efficiency rather than increasing it.  
So what can be the best solution for developers to increase their productivity?
Instead of using multiple tools, developers can use a complete package that enables them to code faster, better, and cleaner.  
DhiWise enables developers to do that and lets them focus better on complex business problems such as security issues in financial transactions, accessibility, regression, and quality management.
With DhiWise, startups can quickly create conceptual applications to illustrate traction or develop MVP to launch product early in the market.
In short, the platform speeds up the web and mobile application development process with minimal resources and a small development team. That's what startups need the most- quicker results, high quality, and increased productivity.
How IT Startups and developers can benefit from DhiWise?
DhiWise is not about eliminating the developers and coders it empowers coders to work efficiently with limited resources.
DhiWise helps developers reduce their repetitive tasks, manage code conflicts, manage resource conflicts, improve software quality, manage code security, provide version control, enable module-specific access, and much more. In short, it makes life easier for developers by abstracting away the development complexity in software development.
DhiWise: Instantly generate production-ready code for web and mobile apps
DhiWise is a SaaS-based platform for startups, developers, entrepreneurs, educational organizations, and anyone who wants to speed up software application development.  It helps developers to instantly generate source code for apps.
Following are some of the  benefits that startups will get after switching to DhiWise:
Supports for modern technologies
The platform supports technologies such as Kotlin(Android), React, Node, MongoDB, Flutter, Laravel, Swift(iOS), so that developers can build any application with confidence and ease.
It helps to build apps much faster by eliminating repetitive tasks in app development such as Integrating APIs, Swagger documentation, design to code generation, workflow creation, code management, ready-to-deploy features, and many more.
Generate quality code for mobile or web application
It empowers agencies and startups with a small team of developers to generate quality code with its clean code architecture.
Developers can easily build browser-friendly mobile and website applications without caring much about tedious IDE setup.
Simplify code repository management
              It simplifies code repository management with Integrated Github and GitLab.
It automatically manages all the aspects of cybersecurity from the coding level.
For the development team, it is always crucial to be on the same page to avoid rework. Version control showcases the details of what changes are made by whom and when. Making it easier for the team to find and work on recently updated code.
DhiWise provides secure module-specific access that enables the development team to work from remote locations.
It is intuitively designed so no extra training is required to learn the platform. Here developers can create MERN stack and mobile apps on the go.
These are only a few mentions of DhiWise. There are many good reasons for a startup to utilize this versatile software product.
Why DhiWise for IT Startups?
The toughest job a business can do is reach out to potential groups of people and convert them into long-paying customers.
This can be achieved by gaining an online presence and the best way is through the website and Android applications. Also, there is a huge demand for websites and mobile applications today.
With DhiWise, IT startups can take this challenge as an opportunity even with a small development team and fewer resources.
[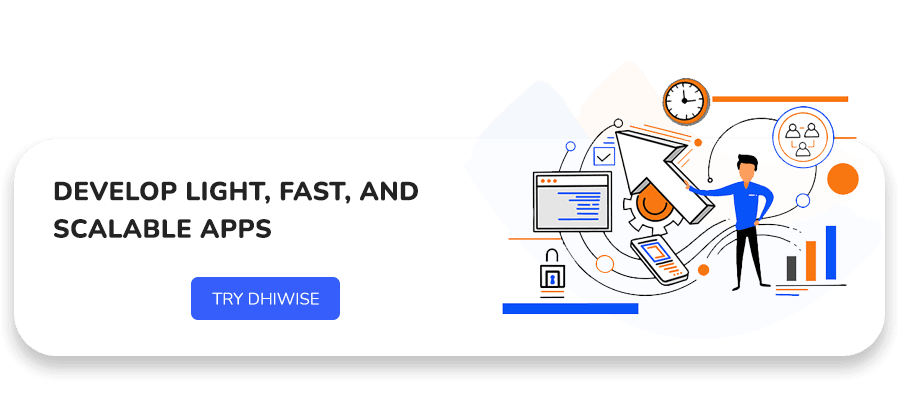 (https://app.dhiwise.com/sign-up?utm_source=blog&utm_medium=banner&utm_campaign=blog)